October 23 2006

• by Laure Marcus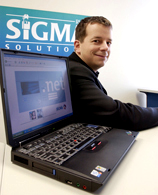 On October 4, 2006, Sigma-HR, a human resources management solutions specialist, transferred its Canadian assets to Desjardins Financial Group. With operations in 17 countries worldwide, this small company is a Canadian success story. At the time of transfer, it had some 30 employees and managed more than 750,000 employee files. Its president and founder, Patrice Poirier, discusses the beginnings of his project and the reasons for this latest operation.
How did you launch Sigma-HR?
Sigma was founded in 1992, when I was still in university, studying industrial relations and computers. As part of a student project, I then hooked up with Michel Dubeau to develop this solution and three other information systems. At the time, Sigma-HR applied exclusively to the management of work accidents. Our operations were very small then, as we were working out of a Montreal basement.
The company then grew steadily to a dozen employees in 1997. We slowly enhanced the solution with new modules, to arrive at a global integrated HR management solution. Our efforts after 2000 were focused on Web-oriented development and setting up a second place of business in France.
How does your solution differentiate itself?
We are the only company in Canada to offer a global, bilingual, totally Web-based HR solution. Moreover, Sigma-HR is very adaptable—it is suitable for a small 100-person company as well as a 45,000-employee entity like Bell Canada.
Our HR offering is complete, including recruiting, time and activity management, employee placement, benefits and skills management.
Why did you transfer your Canadian assets to Desjardins?
This transfer was not critical, but provides us with a mutual strategic advantage.
Sigma-HR had to increase its renown. Although our solution is technologically valid for large multinational businesses, we lacked the required visibility to sell to this type of customer. The Desjardins name is a guarantee of credibility and long-term staying power required to develop this market.
For its part, Desjardins completes its existing payroll services offering with our solutions. Our two offerings are truly complementary, with no overlap.
What does this transfer mean for your customers?
None—the product and people involved remain the same. The sales and support teams have merged with Desjardins. Sigma-HR has kept its development teams and assets abroad. This means we become Desjardins' customer for the Canadian development of the solution, which frees us to focus on consolidating our positions in Europe.
The only real difference for our customers is that they can now benefit from the integration with Desjardins payroll services if they want to.
And to conclude, our favorite question: what job did you dream of as a child?
Very good question! But I confess that I have no idea of the real answer… I have always loved so many things. One above all motivates me since my youngest age: to push forward a project…