November 11 2005

• by Dimitri Bossut
Éric Lapointe, Global compensation Director Transcontinental Inc.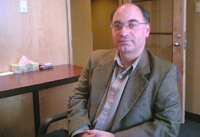 Hello Mr. Lapointe, Can you describe your main duties?
My role consists of designing/adapting and implementing global compensation strategies in order to support the orientation of the company in its human resources management. Compensation policy and programs, incentive programs, Human Resources policies, retirement plan and Insurance programs are many tools that can be used for supporting these strategies.
What are the most interesting, the least exciting, and the most difficult components of your job?
Compensation is all about perception (of one's own compensation vs. others); the facts are there but the perception remains and we must work hard to re-establish the facts. Besides we are in a tense period of change. We can think of the challenges that stem from the financial sustainability of our retirement plans, from the introduction of new governance rules, from the gap between "x" and "y" generations, from the work/life balance, etc…This very dynamic environment requires continuous updating but is also favourable to new achievements.
What had been your career history to get into your current job?
Graduate in Business Administration of HEC in 1988, I have been a Human Resources Generalist for close to half of my career with various companies (ABB, Vidéotron). Then in 1995 I was offered to switch to global compensation.
What career path would you suggest to a young professional for getting into these positions?
Personally I think with compensation the best way is not always the straightest way. A good experience in a generalist role helps to better understand the operation professional expectations towards the corporate specialist functions. Moreover, having spent several years in a generalist role is also a good opportunity to test one's willingness for the compensation field which is, say, both a "person" job and a "figure" job. Not everybody is comfortable with this environment.
Do you have a membership with any associations or professional orders?
I have been a regular member of the Ordre des Conseillers en Ressources Humaines et en relations industrielles du Québec (ORHRI) since 1991 but I also became a member of Canadian Pension and Benefit Institute (CPBI) and "World at Work" which are all very good sources for information and networking. How do you keep your knowledge up to date? Aside from previously mentioned sources, I use articles from specialized magazines, the Internet, seminars and naturally the network.
What are the main challenges for Transcontinental within the next 10 years?
Transcontinental has expansion plans all over North America for the next few years through its featured sectors:
Newspaper printing, with our unique subcontracting model
Direct Marketing in the US – we are already the most important provider for the Financial Institution sector
Consumers magazine – a sector that is already #1 in the country
Publishing community newspapers – we own more than 160 papers across the country
Book Printing – we are building a new plant in Louiseville which will run a cutting edge technology
In this latter sector, like other organizations, we start to resent globalization effects. A future economic power like China will probably constitute a consistent competitor within a couple of years even if today's impact is, for the moment, limited. However for our more regular publishing and printing activities (e.g.: Newspaper, magazines), there is no fear.
Increase in energy costs, client consolidation, the strength of the Canadian dollar and the Internet impact, complimentary to written Medias, are also many factors the printing industry will have to cope with during the next few years. For sure we have strategies to deal with these challenges.
– In terms of Human Resource Management we will also have to take into consideration increasing difficulties to attract and retain resources due to an aging population, more varieties in work force requirements and countless other challenges in work organization.
Are you saying that the "talents war" has started?
I do not think we are talking about a "talents war" yet but in fields such as Finance and IT, we observe a longer hiring process than before.
What does it imply in terms of compensation and human resource management in the future?
At first, creativity in the customization of job offers will prove useful to beat the competition. In fact available resources (potential candidates) would be very likely to have the privilege of choosing their employer in regard to their interests and needs. See the example of the differences in generation. In my opinion, both X and Y want the same things: success in their professional and personal life. However we can expect to have several of our current practices revisited and to introduce increased flexibility in the global compensation treatment, what is actually called "cafeteria" plan.
Did the group execute some important changes in its organization in recent years?
Transcontinental is an organization that founds its development on three pillars: shareholders, clients and employees. The latter are therefore very important to us. With the arrival of new technologies in the printing industry, it is getting easier for us to solicit our workforce on aspects other than strictly the technical side; this is the reason why some of our plants already operate under participative management where the employees hold some responsibilities within the management areas. This philosophy allows us to develop our resources using their creativity and their expertise.
How did the Human Resources function contribute to these management changes? how does it affect a compensation policy?
A business unit where the management is taken on by employees cannot be run like a traditional plant. We have to give more breathing space, provide good coaching, and encourage knowledge acquisition etc…Classical human resource management would not work well in this environment. We therefore have to review our practices and adapt them. It is obvious then that variable pay in this context has more importance due to the increased involvement of our employees in the decision making process.
The founding text on pay equity celebrates its 10th birthday this year, how does a company with thousands of employees manage to comply with its implementation?:
A big component to the success of such a plan goes with the accountability of those responsible since it is difficult to keep it centralized. Nevertheless we can only talk of accountability if the appropriate tools have been handed out.
We are getting close to the end of the fiscal year; it is often the budget period. How do you figure out a year long salary budget for thousands of employees?
It is in fact a big challenge to follow up this expense but as Transcontinental works in a decentralized way, amounts are first presented at the business unit level to be eventually consolidated at the group, at the sector and ultimately at the company level.
Did the Governance Act (or Sarbanes-Oxley bill in the US), which resulted in the financial scandals of the early decade, change something on the compensation policies?
We feel a greater involvement of the board and more specifically the Human Resource and Compensation committee. That drives more analysis demands, more reporting, but it brings better cautiousness and stronger fairness at the same time.
Is the executive compensation more controlled these days?
In fact new rules of disclosure make more transparency mandatory towards shareholders. From now on we have to include incomes that were not communicated before like retirement allowance. Once again, it brings supplementary workload but shareholders benefit from a more complete picture
Are organization performances (on which often lies a large part of executives' compensation) assessed more on a long-term perspective?
It is a current trend in the market to pay the executives on more long-term results. In fact we pay our executives to make decisions and we give them a schedule to demonstrate they were right.
What is long-term in this context?
It is actually a three year period.
What type of incentive systems has Transcontinental implemented on an individual, group and company level?
On a local basis, some units have profit sharing or gain sharing systems depending on the context of each unit. We also have a short term oriented incentive system that recognizes everyone's contribution, its calculation is based on the unit, the group or the whole company one belongs to. A unit action plan which evaluates our financial results on a three year basis has also been introduced this year.The ones eligible for this system are granted rights convertible into actual stocks (or/and dollar) based upon performance metrics they are accredited to.
How and how often is the effectiveness of these systems assessed?
I believe that in the compensation field, it is impossible to predict with accuracy how long a program will last. We have to be able to adapt to the changing needs of the organization, the market and the legal frame otherwise these programs will lose their value sooner or later. Hence staying ahead of the game plays an important role
Transcontinental Inc is the seventh largest printer in North America and fourth largest print media group in Canada. Transcontinental put at the core of its businesses practice a set of values, including respect, innovation and integrity. The company have more than 14,000 employees in Canada, USA and Mexico; its revenues were $2.05 millions in 2004. Transcontinental stocks are listed on the Toronto Stock Exchange.