March 4 2010

• by Sandrine Guinot Sandrine Guinot
"New technologies have revolutionized our methods,"
Johanne Berry, founder of recruiting firm
Tele-Ressources Staffing Resources Ltd.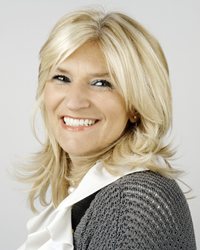 Johanne Berry founded Tele-Ressources in 1985. At the time, the staffing firms industry was in its infancy. How has this market changed over the past 25 years? The former Chair and spokesperson for the executive board of the Quebec division of the Association of Canadian Search, Employment and Staffing Services (ACSESS) shares the fruit of her vast experience.
How has the staffing services industry changed since the creation of Tele-Ressources?
There have been many changes in the industry between 1985, when Tele-Ressources was founded, and today. In the early 1990s, there were about 300 staffing firms in Canada, of which some 50 were in Quebec. Today, there are about 800 such firms and agencies across all of Canada. And with 500 firms, Quebec has the most. It's a market where multinationals like Manpower, Adecco and Kelly exist alongside local firms such as Quantum, Thompson Tremblay and Tele-Ressources, without counting a host of smaller businesses.
From the practices point of view, the 1990s marked the beginning of outsourcing, which few companies used at the time. The arrival of first the fax then e-mail also transformed our way of doing things. Around 2001 and 2002, the creation of various job boards once again changed the industry's work methods. And over the past two years, we have seen Web 2.0 take off.
How have new technologies affected your practices?
They are revolutionizing our methods. Take the implementation of online assessment tests—they have reduced the time candidates spend in our office by half. Everything is online nowadays. The Internet has replaced snail mail and the telephone. Even candidates are online, especially the social networking generation.
Time management is crucial with such tools. You have to know how to use your inputs efficiently, and invest your energy in the right place. And we are still far from being specialists. Recruiting firms and companies have a lot of benchmarking to do. Here at Tele-Ressources, it took us 18 months of studies and research for good positioning on Facebook, LinkedIn and Twitter. But it paid off in the end, because social media are a wonderful opportunity for agencies to multiply their contacts and build relationships with candidates faster.
Are old methods of recruiting slated to disappear?
Our tools and way we work are changing, but the core of job will always be the same. People are at the heart of our assignments. Our primary purpose is human capital, and our line of business is the only one where we are required to satisfy three target clienteles at all times: job hunters, our employees working on various assignments, and the company seeking to fill a job. Our role will always be to recruit the best professional for a particular position. This requires getting a good handle on the candidate's personality to determine whether he or she matches the company's profile, in addition to properly assessing them at all times. Even with all the tools available to us, including video, you have to meet face-to-face with someone to really know what they're all about. We think that this type of interview is essential in our field.
Has any other phenomenon caught your eye?
The generational issue is a new major trend. In the past, employees 50 years of age and up were not the focus of any special attention. But today, their employability is an increasingly important component of recruiting.
While they may not necessarily be proficient in all the technological skills of their younger counterparts, their experience can be a source of added value for companies, through mentoring or replacement on all kinds of positions. Through its Retro-Action 50+MD division, Tele-Ressources offers its clients the opportunity to help jobseekers in the IT, finance and engineering sectors land a job or assignment. There is clearly a lot of work to be done to introduce this new way of working that harnesses the know-how of 50+ professionals.