July 30 2008

• by Claire Léraudat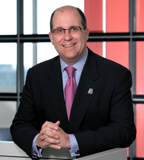 At the beginning of July, Workopolis and Rogers Publishing announced an exclusive partnership. The Canadian job site giant and the largest Canadian publisher of business magazines will now share their online resumé databases. Workopolis president Patrick Sullivan explains why the two got together.
What does the partnership involve?
We are making available our online resumé and job posting technology to all the specialized Rogers sites. CanadianGrocer, Benefits Canada, Advantages, Advisor, Conseiller, Healthcare Careers, Pharmacy Gateway, Mon Portail Pharmacie and Marketing Magazine already have our career section. By October, a total of 28 sites will have our online recruiting technology. They are specialized sites in sectors where talents are difficult to come by such as IT, telecommunications, health care, etc.
Why did you forge this partnership?
Despite Workopolis's national coverage, human resources professionals are finding it increasingly difficult to find people to fill specialized positions. We are therefore doing more niche recruiting.
This partnership is the first of its kind, but is not our first niche recruiting action. Six months ago, Workopolis acquired Brainhunter, an IT talent job site.
Who at Workopolis will manage this niche recruiting tool?
Workopolis is currently setting up a team dedicated to developing recruiting solutions for specialist profiles. Gabriel Bouchard, the founder of Monster.ca, has just been appointed vice-president of strategic planning, and his role will be to coordinate our activities across the various specialized websites.
What are the benefits for recruiters?
The cross-posting functionality we offer via this partnership saves time for recruiters. Right now, they have to post two ads: one on the specialized site ($2,000/month) and the other on Workopolis ($700/month). But soon, they will only have to post a single ad on the specialized site to see it disseminated across the entire Workopolis network. The opportunities for online visibility are therefore multiplied, and the targeting will be better.
Aren't you afraid of competing against your own generalist job site with this new development?
Of course, we have considered the risk, but this development makes sense because we are continually seeking to increase our market share and client pool. Banking on jobs in specialized sectors allows Workopolis to anticipate the trend. We are positioning ourselves for the unavoidable evolution of recruiting without having to create a separate entity.
Besides, we are taking little risk because with its 9 million registered candidates and 70,000 jobs, Workopolis is already the largest job site in Canada. This year, we had 50% more candidates posting their resumés. Altogether, close to half of Canadian workers have visited our site!