January 24 2017

• by Anne-Hélène Dupont
Foosball tables, espresso machines, and upscale snacks have little to do with how satisfied your employees are. Two experts tell us what really makes the difference when it comes to workplace happiness.
Everybody Wins
"When we talk about well-being at work, we often picture employees with a smile on their face and their arms crossed. But my research shows that workplace wellness isn't passive: happy employees want to become more involved in their workplace. That way, everybody wins," explains Véronique Dagenais-Desmarais, a professor of work and organizational psychology at the Université de Montréal.
"Ultimately, having happy employees is the way to stay in business today," adds Étienne Beaulieu, CHRP, an organizational development consultant at Grisvert. He explains: "A product can be copied… and it's only as strong as the employees behind it who help it stand out."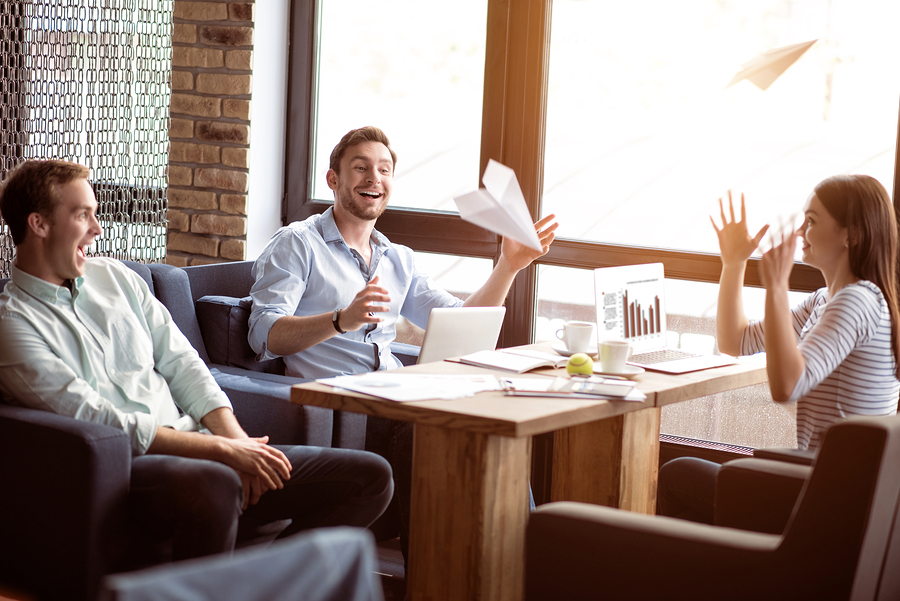 Here's what to do to make your employees happy.
Attentive Managers
According to Étienne Beaulieu, listening should be the starting point of any approach that aims to increase employee satisfaction. "What's important to employees isn't necessarily what the employer might think. So first of all, you should listen to what your employees have to say, then make a game plan. It's not about doing everything the employees want, but co-creating the conditions for well-being," he explains.
Emphasize Respect
Besides listening to the employees, a manager should lead by example to promote a corporate culture where respect is a core value.
"It all begins with staff selection," explains Véronique Dagenais-Desmarais. "When hiring, you should not only evaluate a candidate's technical skills, but also their people skills," since the arrival of a negative leader can have devastating effects on the work atmosphere.
Show Appreciation
A good way to encourage employees to nurture their relationships with their colleagues is to include this point in the formal recognition policy, much like the other values that you hope to promote in your organization. "Often, by default, it's seniority that's rewarded. But this practice encourages neither a culture of mutual assistance, nor respect, nor innovation," laments Véronique Dagenais-Desmarais.
This policy should be accompanied by informal demonstrations of appreciation. "Say thank you, let the employee know that you've received and read their report … You should make employees feel that their work is valued," emphasizes the workplace wellness specialist.
Meaningful Tasks
Understanding the meaning of the work to be accomplished is another key element. In this context, Étienne Beaulieu gives the example of a company that produced geotextiles for the petroleum industry that he worked with: "They defined themselves as angels of light in a dark world. We encouraged the employees to take ownership of this mission. One employee told us that that made her understand why she had to pay attention to the details. You have to give meaning to the work; otherwise, it's difficult to feel engaged and happy."
Understanding the reasons behind their superior's demands and decisions also generates a feeling of belonging in the employees, a "crucial" ingredient in workplace wellness, according to Véronique Dagenais-Desmarais.
Focus on Cooperation and Innovation
Consulting employees to optimize processes, creating or perfecting products, and solving problems is another particularly effective way to increase the feeling of belonging within an organization, according to Étienne Beaulieu. "You have to promote teamwork and appeal to people's intelligence," asserts the organizational development consultant.
In conclusion, the measures that promote employee well-being are – for the most part – inexpensive. It all comes down to the human level.