February 14 2006

• by Dimitri Bossut
HRjob.ca met Kim Peters during the HRPAO conference & trade show event in Toronto.
The person behind working.com has an impressive track record in the Canadian job board industry and has come to a point where she now competes against her own creation…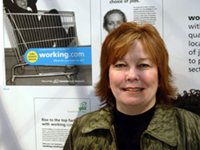 Can you give us some information regarding yourself and the different jobs you had before becoming General Manager of working.com?
I come from many years of sales in technology, electronic news content, hardware and software. When I began with the Globe & Mail Information Services – where I was Director of Business Development – one of the businesses that I developed was the very first Globescareers.com; The Globe and Mail's original career site in 1998. It actually did very well, so much so that the Toronto Star decided to invest and partner in it. It became Workopolis in January 2000. I was President and ran Workopolis for about 3 and a half years. After I left, I was consulting in Internet recruitment for awhile. One of the companies that I consulted for was Canwest, who were looking at doing something new on the Internet and with their career space. I built a plan for working.com and after the plan was built, they asked me to run it!
What were the things you put in to turn Careerclick into something more successful than it was?
Well, I changed the whole approach and the technology as well. It really had a complete overhaul. I truly believe that recruitment is local, first and foremost. I think that most people want to find work where they live and that most employers want to hire people right there. Job searching is often serendipitous. People do not really know what they're searching for, so you need to have a variety of ways to best connect people to jobs and jobs to people. What we were finding from my past experience is that many employers were complaining about people applying for jobs that live in different parts of the country or in different parts of the world and even if they were well qualified employers were not prepared to relocate them. What employers said was that even if they found good candidates they were able to hire, they had such a lot of noise—unsuitable candidates to sift through. What I thought would be work more successfully would in fact be a local focus, so we built working.com as a network of local sites. Rather than attract thousands of candidates through one giant database, the way the major competitors do and I did in my past experience, working.com is about local first. This model is proving to be very successful. We surveyed job seekers before we launched working.com and 92% of them did confirm that they want to work locally and our employers find that it works very successfully and as a result they do not complain about getting a lot of noise and they do find that they get very qualified candidates.
Are there some things you learned within the print media industry that you brought in?
You know we're learning all the time! Everything is evolving. One of the things that is really unique to working is the integration with our CanWest newspapers. We have eleven different leading daily metropolitan newspapers across Canada, some community newspapers and Dose, our youth-oriented publication in five Canadian markets. With the launch of working (and not previously) people who place a print ad automatically are able to post to working.com as well. Just as a typical newspaper sells attention grabbers,or positioning on the page with working.com you can buy the equivalent online as well. For example you can buy bolding in the search results to highlight your job, you can buy a digital display so that the online ad will look just like the newspaper ad, you can buy video version of the ad.
Is the video ad working well?
Very well actually. We sell hundreds of videos each week. People do find that they work because job seekers all have different ways of looking for a job, some prefer text and some prefer video.
What do you perceive in the online recruitment business today with many new things that are coming up like Google base, vertical job search engines like "simply hired" or social network softwares like "Jobster"…?
You know, the business just continues to evolve, right? Technology evolves and there are different models but fundamentally they are all still about matching people to jobs and jobs to people. I think that search engines are effective but I do not think that when people come to basically "shop for a job" they necessarily know what they are looking for. I do not know if a search engine is really the best way to catch their attention. So often when people browse a company's jobs they want to know more about who this company is and why it would be a good place to work. I see working.com's future really as helping companies build employment brands and defining areas where people (such as we have done with canadianretail) can really understand who the employers are in that space, the differences between the companies , the various opportunities they offer, and perhaps more even about what type of careers might be offered. I think that is really what jobseekers want; they want to be able to compare the different shops. I see the search engines as a way to drive people to those kinds of spaces. I see us as offering a complete range of services for advertising, so for example, we are participating in Google Base and we would participate in others as well. Because I do think that many HR people are certainly not Internet experts so if we can provide a range of services for them to ensure traffic on their jobs that is part of the service we can provide.
What was the strategy behind the acquisition of canadianretail?
Just as I feel that recruitment is really a local matter, I do think perfection is having depth in both location and in every sector. So canadianretail.com simply fit with that philosophy; it provided us depth in the retail category, and that was really important. The opportunity came along and it was exactly what we were looking to offer.
Is it possible to see it repeated with other category websites?
It could very well be repeated but not necessarily only through acquisitions. We also do a number of affiliations with associations and we have now launched a few different categories, in our Vancouver working.com.
What type of categories?
We just launched working.com/BCTourism and working.com/technology with New Media BC. We already have working.com/automotive in BC which is a strong affiliation with the New Car Dealers Association of BC. Here in Ontario we have a partnership with Nurses4Ontario, a non profit association that works to find jobs for nurses in Ontario, and as a result we have postings from many different Ontario hospitals.
Does it mean that you crosspost jobs posted on those website's associations on working.com?
Most of these organizations do not have a jobs posted on their websites, so we have special offers for the members of the association to use working.com and/or our newspapers. For nursing in particular, our emphasis on local jobs aligns very well with Nurses4Ontario's local emphasis.
What about this new partnership with Equitek?
This is to provide a diversity solution for employers. It is really quite unique because it is a network of more than 250 different outreach groups in all of the designated groups in Canada. What it means is that if someone posts a job to this network it is automatically blasted out everyday to all of these different outreach groups. It's a really effective outreach tool which we offer as an extension to our online subscriptions, so that a company can know that all of its jobs are blasted out automatically everyday to this diversity network, which helps them comply with Employment Equity legislation. Very shortly you will actually be able to add Equitek outreach as an option even on a newspaper job. We just work to build solutions to match people to jobs and jobs to people!
What job were you dreaming of where you were a child?
The only thing I can remember was wanting to be a teacher. It's certainly not in a classroom, but I do both teach and learn every day, and both aspects are very satisfying. I love what I do!