December 20 2010

• by Séverine Degallaix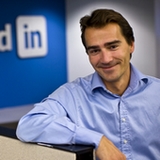 LinkedIn announced the launch of two new solutions for recruiters at its Talent Connect conference in late November. François Dufour, Director of Marketing for LinkedIn recruiting solutions, discusses these new tools and how they work.

How can companies use LinkedIn?
LinkedIn has two goals: to help professionals build their reputation, via their profile, and help companies in hiring. Recruiters can easily become headhunters because they have access to a database of millions of candidates. In addition, we work on the employer brand—social media are especially useful for this type of communication. For instance, companies can post their career page on the network in order to promote their recruiting policy and publish their ads. North America is a rapidly growing market, with some 40 million members in the U.S. and two million in Canada. This means that close to half of our members are in this zone. Our clients include large U.S. and Canadian companies such as Loblaws, National Bank of Canada, IBM, etc.
What solutions do you have for recruiters?
Our latest tool, Jobs For You, shows network members only the job ads likely to interest them, based on their profile and geographic situation. Our technology allows us to match the ad to candidate skills, so companies can get in touch with relevant, but invisible professionals—those who are not actively searching for a new job but who have an interesting profile view these offers.
It is even more useful given that these passive candidates are often people who find their successive positions via their network of contacts. Although they have highly qualified profiles and are therefore very interesting to recruiters, they are not in the job search market. Plus, since the job ads are targeted, the click rate is very good—as high as 6%, vs. less than 1% on average for the same type of online banner.
Are there other new products in the pipeline in the coming months?
Yes, there is another recruiting solution: the Referral Engine, which should be launched during Q1 2011. The idea is to use the same matching technology to encourage referrals, since these programs represent more than a quarter of North American recruitments. In addition, it has been shown that employees hired in this way are in general more committed, loyal and perform better.
Via the Referral Engine, LinkedIn searches the address book of members of the hiring company for contacts that could match. It is then up to employees to refer these persons, or not, to their company. It's a good way of searching out candidates that the organization wouldn't necessarily have access to otherwise.