March 17 2014

• by Paulina Ignacak
In less than a month, Quebecers will once again go to the polls with the task of electing the next provincial government. A quick tour of what the four major parties in the race are offering in terms of job creation in Quebec.
PLQ: Ambitious Promises
Creating jobs is at the heart of the liberal offensive.
If elected, the Quebec Liberal Party promises to create no less than 250,000 jobs in the province over the next five years. To do so, the head of the party, Philippe Couillard, wants to revive Plan Nord, reinstate investment into public infrastructure and develop his maritime transport project for the St. Lawrence Seaway.
Pauline Marois was quick to respond. The Parti Québécois (PQ) leader noticed the similarities between Couillard's promise and that of Jean Charest during his 2012 campaign, who also pledged to create a quarter of a million jobs in Quebec within five years, if elected.
PQ: Priority on Employment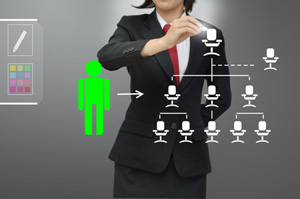 Quebec may have lost 26,000 jobs in February , but Pauline Marois doesn't seem worried.
"In the past, we've seen some months where there is a decrease in jobs. There are variances and I think it's normal. We can't draw conclusions from [February] alone," she said last Friday.
At the same time, Quebec's Prime Minister unveiled her plan for job creation, setting herself an objective of creating 172,000 jobs over the next five years.
CAQ: Quality Jobs
The head of the Coalition for Québec's Future promises the creation of 210,000 jobs over four years, including what they call "50,000 quality jobs". François Legault has estimated that he will be able to create 50,000 "well paid" jobs with his "Valley of Innovation" project, a vision much like Silicon Valley in California, that will run along the St. Lawrence River.

QS: Waiting on Promises
As of yet, Quebec Solidaire has no concrete plans to create jobs other than the promise to extend the province's CLSC opening hours, which would allow for the hiring of 800 health care professionals.
Québec Solidaire is set to announce its green plan next week, at which time their job creation program should be unveiled.