April 28 2008

• by Laure Marcus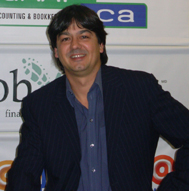 The Mercuriades competition recently recognized e-recruiting player jobWings Careers. The Montreal-based company, which won an award in the Professional Services – SMB category for the quality of its marketing strategy, is the driving force behind HRjob.ca. In the era of Web 2.0, its founder and president, Manuel Francisci, talks to us about his vision of e-recruiting.
What do you think convinced the Mercuriades jury?
We had a good story to tell, one that's unique in this market. I started out alone with the jobWings site, and we are now a dozen people running some 20 job-related sites. We also successfully positioned ourselves nationally in a market that was until now reserved for very large players, most of them backed by powerful media groups.
Tell us your story. . .
JobWings was launched in February 2001, right in the middle of the technology crash. Needless to say, the timing was not great. But convinced that the new generation of job sites would meet a real need of recruiters and candidates, we started Hrjob.ca in 2002, then job search engine Nicejob in 2003. It was a world first: with Nicejob, we transposed to the employment field the pay-per-click payment concept initiated by Google. After that came our other niche job boards: ITjob, Recrutech, Retailjob, Salesrep, Accountingjob, etc., and their Canadawide launch. All our sites are now bilingual and cover all provinces.
Why this niche of specialized sites?
Because it's easier! Nowadays, both candidates and recruiters recognize the limits of general sites—finding relevant ads or CVs is often a challenge due to the vast amount of information contained. Specialized sites focus on the qualitative over the quantitative: candidates are sure of finding postings in their sector or area of expertise, while recruiters are sure to reach the right candidates.
Specialized sites act as a natural filter to limit irrelevant applications. In fact, candidates who apply without reading the job description don't like these sites. There are not enough ads for their liking and their CV is not stored, ready for broadcasting to multiple recruiters.
This is without considering the fact that passive candidates are now key—while employed professionals will not waste their time on a general site, they may remain subscribed to alerts from specialized sites to be up to speed on opportunities. We therefore communicate less with job hunters and more with employed professionals via specialized fairs and press. Most of our sites also contain sector-specific advice and articles.
How are recruiters' needs changing?
The days of traditional recruiting are over, because the field has gotten a lot more complicated. It is no longer enough to post a job and to interview people. The shortage of talent is requiring us to gradually turn to the headhunting methods! Forging relationships, building up a network of contacts, being proactive—you now have to be an experienced recruiter to be convincing.
The balance of power is shifting. Jobs are becoming a mass marketing product, to be disposed of once consumed, with the focus being on the job at the service of a career, instead of the employee at the service of a company. Candidates have become true clients that need to be charmed to attract them and whose loyalty is then cultivated to keep them.
Companies are longer recruit, but ARE recruited. And this is true not only for the younger generation—you just have to look at baby boomers negotiating the conditions for their return. . . Things were relatively simple when all you had to do to attract or retain talent was to raise salaries. Now that corporate culture and values are taken into consideration in the candidate's decision-making process, it's a lot more tricky.
Do you think that social networks will one day triumph over job boards?
Word of mouth has always been more effective than job boards. Social networking sites allow a certain form of word of mouth, but on such a vast scale that saturation is quickly reached. If everyone starts proposing jobs to everyone else, candidates will quickly start feeling like recruiters faced with an avalanche of irrelevant CVs.
Social networks can be a good support for job postings, however. Since the public is divided among millions of interest groups, the challenge is to use the best supports based on the type of offer. Those who found it difficult to choose from the many job sites available will not be disappointed. . .
LinkedIn, for its part, threatens mainly CV banks. Why should recruiters pay for a CV bank when they can have one that is free, equipped with a powerful search engine and best of all, that is automatically updated by candidates! Personally, I have never believed in CV banks on job sites, so I have never implemented them. I think that the next step is either for recruiters to synchronize their CV pools with LinkedIn-type sites, or more probably an offering that allows recruiters to build and manage their candidate pools via the database of sites such as LinkedIn. It would be a little like splicing the Taleo system to LinkedIn, with the enormous advantage that all the candidates' data is updated spontaneously by themself. Gone are the days in which we had to wait for candidates to come and update their CVs on the systems of all the companies they had applied to.
What is the outlook for 2008 for jobWings Careers?
We have a lot of projects on the go! We already have two niche job boards in the pipeline, along with a job-related site. We are also interested in projects likely to appeal to the next generation of candidates because Generation Z is proving very difficult to attract to job boards.